INVERT SPORTS offers the largest and nicest selection of luxury inboard V-drive tournament wakeboard boats, and ski boat rentals on the market, period! Most of our power speed boat rentals are current model year, and maintained to the highest standards. We guarantee our towboats functionality, dependability, innovation, and performance. Enjoy your boating vacation and rent one of our fine competition lake boat rentals or water ski boats today!
INVERT SPORTS has the largest fleet of competition boat rentals which include eight different lake boat rental sizes to choose from. Enjoy the mighty Mastercraft X-45 with capacity of 18 passengers. The MasterCraft X-35 deep hull design for rough water rides, plus the perfect wake for all water sports; holding 16 passengers. Then we carry the MasterCraft X-Star, a wakeboarder dream boat allowing up to 12 passengers, and the sleek MasterCraft X-30 boat rental with capacity up to 16 passengers. Have fun with the MasterCraft X-15 with a perfect seating capacity of 14 passengers. New models in the popular MasterCraft X-2 seating 11 passengers. The MasterCraft X-1 with a 11 person capacity, and the Centurion Elite Falcon rental boat with the capacity up to 10 people. Rates vary on availability, location, dates, and duration. Click Here to view our reservation policies, or view our Pricing Page. Read on to find out more about the exciting boats INVERT SPORTS offers for rental.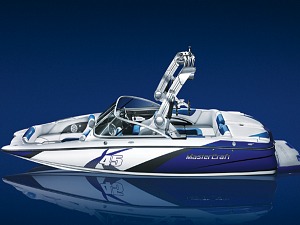 Invert Sports uses the latest and greatest boats from Mastercraft. The largest boat in our fleet is the MasterCraft X-45 boat rentals. The X-45 is easily one of the nicest ski boat rental on the water, you will be the envy of the lake riding behind these unbelievable machines. The X45 boat rentals have room for 18 passengers and throw a wake worthy of the best riders around, but also giving the water skier a flat wake to get the perfect rooster tail.
Our X-45's come with ballast tanks, perfect pass, BIG 6" gauge, cooler, low profile trailer, air and water gauges, depth gauge, bi-mini top, tower light and speakers, iPod interface, tons of storage, cooler, and much more! With an 8 liter 450 HP engine this boat rental is perfect for whatever water sport activity you choose. If you have ever dreamed of cruising around the lake on the ultimate luxury ski boat rental this is the perfect boat for you! The MasterCraft X-45 boat rental is 24'2" long with a 102" beam.
From Mastercraft.com: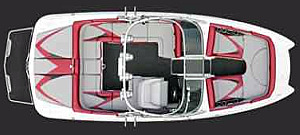 The X-45 boat rental tosses back massive, defined wakes that float riders to the flats. With a new, refined Zero Flex tower system, pulls are pure, as is the sound from the standard Clarion/JL audio system howling to the tune of 500 watts.
Slow it down to 11 mph, and hold on wakesurfer; you'll think you washed up on Huntington Beach, with clean curls that allow you to surf as long as your legs hold out..
MasterCraft X-35 Boat Rentals X-35 Large Photo Gallery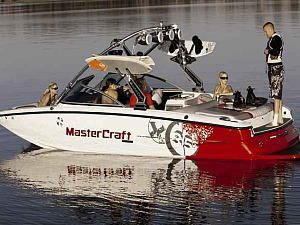 Invert Sports has introduced a spacious model boat rental in our fleet; the MasterCraft X-35 boat rental with a seating capacity of 16 persons with tons of extra room to spare. We have fully loaded this boat rental with the 450 HP engine, tower lights and speakers, heater, shower, rear view mirror, V-dig control system with air temp, water temp, perfect pass, trim tab, bi-mini top, ballast tanks, iPod interface, fuel capacity, depth finder, tower with swiveling board racks with clamps, and much more!
Unique to this boat rental is the passenger seat rotates to allow the passenger to sit forward or backward. This is an amazing competition boat rental is for those who love a smooth ride while traveling through rough water in Lake Powell, Lake Mead, Lake Havasu, Lake Mohave, or any other boating lake. The X-35 boat rental puts out a perfect wake for any water sport; because of the hull design, adjustable trim plate, and ballast tanks.
From MasterCraft.com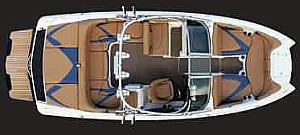 The Mastercraft X-35 performance boat rental is 23'5" long and a 102" beam. Wakeboard, wakeskate, wake surf, cruise, ski, invent a new sport, the MasterCraft X-35 boat rental is designed to put you in the spotlight with an array of other impressive features and amenities that definitely help you rise above it all.

Such as a smoother ride from the X-35's deeper, self-bailing hull, a reversible forward/backward-facing companion seat, and tons of storage. The X-35 touts the infamous MasterCraft pickle fork design, originally created to supply more bow room and to give your water dwellers another entry point with its convenient bow ladder.
Mastercraft X-Star Boat Rentals X-Star Large Photo Gallery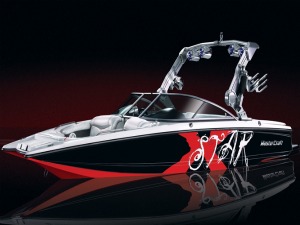 If you are looking for a powerful boat rental that will let you push yourself to the limit, this is the one. Winner of three straight Rider's Choice awards and crafted for the professional rider, this is the boat rental that will shred just as hard as you can and then some! The MasterCraft X-Star towboat rental is a wakeboarders dream boat specifically designed for wakeboarding.
Holding up to 12 passengers, and a 450 HP engine there is nothing that will stop you from getting the best ride at any of the favorite houseboating lakes. The MasterCraft X-Star boat rental is 22'3" long with a 100" beam. This boat rental includes all these options and more; perfect pass, ballast systems, depth gauge, bi-mini top, air and water temp, tower lights and speakers, heater, shower, iPod hook-up, and transom remote.
From Mastercraft.com: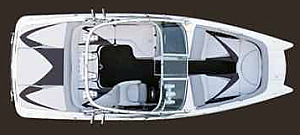 The X-Star boat rental is as much a study in modern design as it is in the development of modern wakeboarding itself. When we posed this question to our elite wakeboard team years ago, they didn't have an answer. "What can be done behind a boat?" We asked. "We don't know, a boat that exceeds our limits doesn't exist", they told us.
Ever since that group of pros helped us conceive the modern X-Star, our team (and the thousands of aspiring pros like them) has been pushing themselves, and their sport, forward. Each year, thousands of new tricks are landed by new riders who have answered the calling of the X-Star. Exquisitely sculpted and continually refined, the X-Star boat rental is defined not by what the boat is, but what it does
Mastercraft X-30 Boat Rentals X-30 Large Photo Gallery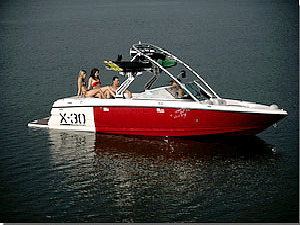 Invert Sports has upgraded to the new 16 passenger Mastercraft X-30 boat rentals to the new models with almost all the upgraded boat options! With a 400 HP engine from Indmar; this is the perfect size ski boat rental for our larger-sized groups. You won't be disappointed with the wake behind this boat-ideal for lessons and landing your next trick while wakeboarding or wakeskating; but also allowing a smooth wake using the trim tab system for the most competitive slalom skier.
We have loaded our X-30's with all the toys including tower lights and speakers, board racks, ballast system, bi-mini top, perfect pass, heater, shower, depth finder, perfect pass, cooler, iPod interface, air and water temp gauge, trim tab, and much more! The MasterCraft X-30 boat rentals are 22'5" long with a 102" beam; with enough room for all your water toys under the seats, and storage areas.
From Mastercraft.com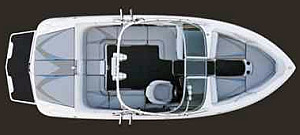 The MasterCraft X-30 wakeboard boat rental has seating for 16 which is perfect for your family or group of friends. Behind the X-30's diamond transom is a water lover's fantasyland. With wakes which move from butter at 32 mph to bulging at 21.
The X-30 boat rental singularly delivers skiers and riders equal doses of excitement. Our innovative, modified step hull and a series of terraced chines allow the X-30 to move freely at slalom speeds while sitting low when the speedometer inches below 22
Exciting for customers we have added the mid-sized boat rental model; the MasterCraft X-15 with a seating capacity of 14 passengers. This is our mid sized ski boat rental with a 350 hp vortec engine from Indmar, and all the amazing new options only offered by Mastercraft boat company. Enjoy a bigger wave for all you wakesurfers with the new trim tab system; with a push of a button you control the wave for either side of the boat.

This boat rental hold 45 gallons which will last 8-12 hours normal running time. Just a few of the options we have placed on this boat include; perfect pass (cruise control), bi-mini top, shower, heater, iPod hook up, CD, Video player, trim tab, 3 ballast tanks, bilt in cooler, low profile trailer with blinged out rims, tower lights and speakers, and so much more! This boat has a v-hull design which handles rough water well; plus the new video camera which allows you to plug and play right from the digital screen.

From MasterCraft.com

At 21' 8" plus the rear platform in length and a panoramic 100-inch beam, wrap-around seating and swiveling board racks, the X-15 boat rental comfortably accommodates everybody. Our passion for design and performance is evident in the distinctive dash, the innovative BIG (Boat Instrument Gauge) Screen and servo-driven electromechanical custom gauges.

And with MasterCraft genes, it has the proven performance to deliver everybody's idea of fun - especially if that involves any attempt to cheat gravity via the sublime science of wakeboarding. Enjoy a lake vacation with food and friends; this boat has a large cooler for all your supplies.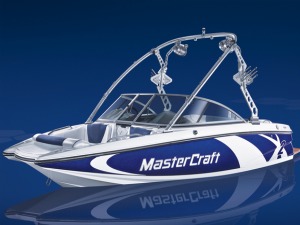 The Mastercraft X-2 boat rental is beautiful and comes in small packages but with seating up to 11 passengers easily, and with a lot of storage capacity. The powerful twenty foot length allows for easy water sport towing and maneuverability. In the water, the newly redesigned X2 is a beast with the power and premium appointments that feel huge. Its high quality amplifies slalom runs, and the X2 keeps the energy levels peaking with legit wakes for boarders and wake surf seekers. This wake boat adapts to any water sport your interested in trying.
The innovative twin-tip bow acts as an observation lounge for your crew. All while concealing an unprecedented 76 cubic feet of storage space. Enjoy 45 gallons of gas lasting approximately 8-10 hours and a 310 hp RTP 5.7 liter engine. This boat has tower speakers, iPod, CD player, perfect pass, trim tab, depth finder, ballast tanks, bi mini top, and more!
From Mastercraft.com: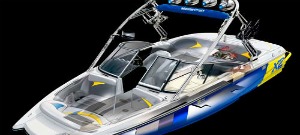 The X-2 MasterCraft boat rental defines perfect waves for all types of boating activities. The innovative twin-tip bow acts as an observation pit for your lake crew. All while concealing your gear in an unprecedented 76 cubic feet of storage space.
Engage the perfect pass to 12 mph, and be amazed at the wake surf curl this boat produces; you'll think your vacationing on Hawaii, with huge curls that allow you to surf as long as you would like. The MasterCraft X-2 is like a minature X-Star with the same amount pop!
The MasterCraft X-1 wakeboard and water-ski boat rental with a 310 hp engine, and seating capacity for 11 people. The X-1 boat rental was the first X-Star until they came up with the new whole design. So you can feel confident you are going to get the perfect wake to throw down any trick. Whether you're an amateur seizing the moment, or a pro dropping jaws at tournaments, the X-1 wakeboard boat rental delivers a rock solid performance time after time. Just make sure you're not repeating yourself.

This boat rental holds 33 gallons, and is 20'7" long, with enough storage capacity to hold all your gear. We offer this amazing boat chartered; or try it out for yourself, and rent it on your own. The MasterCraft X-1 performance boat rental is perfect for slalom skiing at 29-33 mph.

From MasterCraft.com

The X-1 boat rental is an excellent crossover boat – thanks to the X-1's narrow, clean underside, the wakes are perfect for skiing (AWSA approved) and with a flip of a switch, the ballast fills and the X-1 will churn out its legendary wakeboard wake.

The X-1 wakeboarding boat comes standard with tower, board racks, iPod hookup, and ballast system – and of course, MasterCraft quality and performance – a feature not found in many other entry level inboard towboats – is standard as well.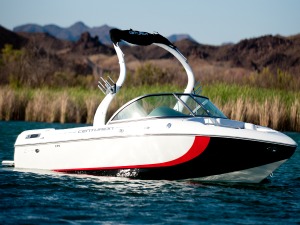 The Centurion Elite V Warrior Falcon edition 343 HP engine speed tow boat rental is Invert Sports smallest wakeboard boat line for those who have smaller groups, but would like a good competition power speed boat rental for a great price! This power boat rental has seating for 10 persons, and comes with enough power to pull up the biggest slalom skier with a loaded boat.
The Centurion has a 42 gallon tank, four 200 lbs ballast tank, CD / Stereo player, tower, and is 21'6" long with good storage capacity under the seats, and in the rear. This speed boat rental offers the smallest water ski, and slalom ski wake available between all our watercraft boat rentals. Filling the ballast system allows all the wakeboarders, and wake surfers to get in on the action as well. The Centurion Falcon has the corvette scorpion marine engine which has proven to be among the best in power and performance.
From Centurionboats.com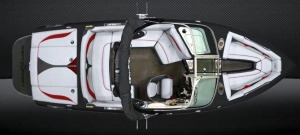 Step into the Air Warrior Elite V-Drive C4 Falcon and you'll think you won the lottery. You get everything you want, including V-drive, without having to shell out for it. At low speeds, you get a sweet ramp perfect for stomping your latest wakeboard trick.

Lay into the throttle a bit and watch the wake disappear, leaving a blank canvas for your slalom ski. The wraparound seating feels like a floating living room, with a built-in cooler and Sony CD stereo to seal the deal. For performance boat rental and price, you can't top the Air Warrior Elite V-drive Falcon.