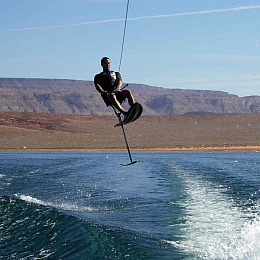 Try our new Wakefoil, Hoverglide and Air Chair lessons offered by Invert Sports at all lakes and reservoirs in the United states.  Air Chair or Sky Ski is where someone is sitting on a Hydrofoil, and flying above the water on a seat.  Air Chair is a relatively new type of water sport activity and most people don't even know what it is.  This water sport is extremely unique, instead of riding on top of the water like with skiing or wakeboarding, you ride over the water; like your floating in the air.  The chair has a hydrofoil attached to a three foot long post which creates the lift to make the air chair glide smoothly over the top of the water.  This is a more difficult activity than most other water sports depending on the person, however it is one of the most amazing sports on the water, and takes little effort once you get the hang of it.  The hoverglide foilboarding is the newest water sport that is hitting the boating world by storm.  Enjoy a flying surfboard on a wakefoiler using a tow rope or using it without!
A couple pointer before you come out on air chair lessons.  Grab the rope and align it in front of the exposed part of the sky ski. If you are learning to get up, have the ski boat drag you very slowly (idle) in a straight line.  Try to learn to keep the Air Chair pointed in the direction of the boat at all times.  Mark sure you steer with the rope, and keep your body steel.  The Air Chair uses leverage as it's primary means of control.  When you move the rope to the right, it will pull you to the left; and vica versa. Control the angle of the Air Chair by compensating with the location of the rope, and remember balancing on the center of the seat will make all the difference.
The boat driver, instructor, and student will have to be patient; because you will get turned sideways more than once.  Have fun while learning, and don't get frustrated.  With the boat pulling you in a straight line, try to the keep the Air Chair straight.  As the boat accelerates keep your back straight, your arms outstretched and make minor adjustments to your direction with the location of the rope. As soon as the ski has planed, lean forward to keep the air chair down in the water.  As soon as you are up, ride on the ski.  Lean forward and keep the rope waist level to remain balanced.