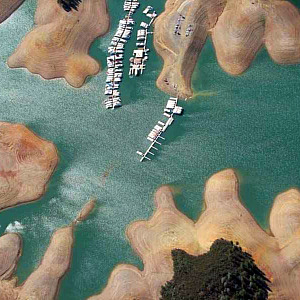 Official information on Shasta Lake boat rentals which is one of the largest lakes in the western United States with 365 miles of shoreline when at full capacity where you can enjoy houseboat rentals and vacations. Whether you are planning an extended houseboat vacation or a weekend getaway you will find what you are looking for at Lake Shasta. Perfect for guided water sport vacations, and wakeboard boat rentals. Lake Shasta is rich in history and rich in recreational opportunities, this region offers something for everyone from exciting water adventure, to breathtaking scenic beauty. The Shasta Lake area is located at the very top of the great Central Valley, in beautiful Northern California, nestled between lush, green mountains.
Visible from the City of Shasta are both Lassen Peak and Mount Shasta which offers snowboarding, snow skiing, and hiking. When the lake hit its lowest point in history back in 1977-78 the lake still retained a 124 mile shoreline. At that time the lake level was down approximately 238 feet from the top. Let Invert Sports set you up for the week in a houseboat rental, competition wakeboard boat charter, and jet ski rentals on Lake Shasta.
Ten miles north of the city of Redding, with the town of Lakehead its northern shores, Shasta Lake is popular for boat rentals, wakeboarding, water skiing, camping, house boating rentals, and fishing. Formed by the damming of the Sacramento River, Pit River, Mcloud River. Lake Shasta has 365 miles of mostly steep mountainous shoreline covered with tall evergreen trees and manzanita. The maximum depth is 517 feet. Enjoy the outdoors with beautiful water recreation at these marinas, launch ramps, and resorts around Lake Shasta that we service; Jones Valley, Silverthorn Resort, Digger Bay Marina, Bridge Bay, Packers Bay, Holiday Harbor, Lakeview Marina, Shasta Marina, Sugarloaf Resort, Antlers Resort.