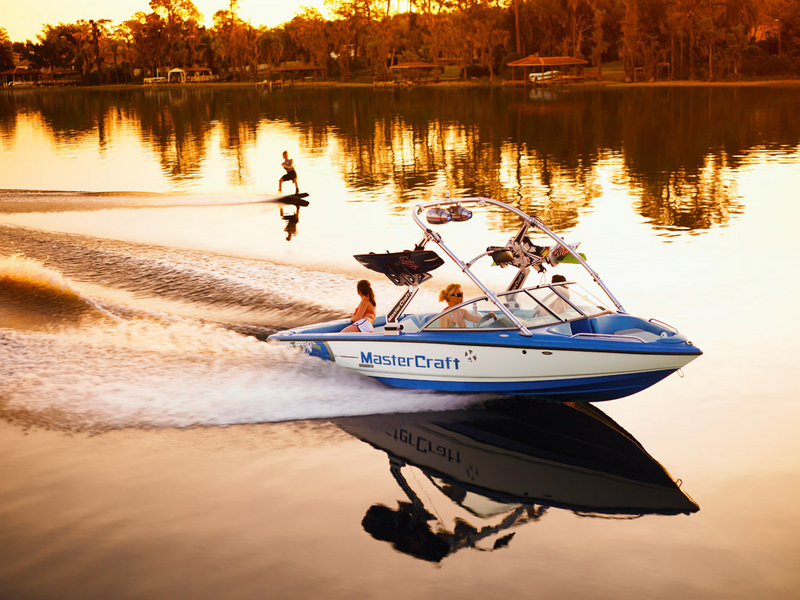 Lake Havasu houseboat rentals and waverunner is well known for its recreational fishing and boating activities. Lake Havasu brings in 3.5 million visitors each year. Water Sport tournaments are often held on the lake, where wakeboarding, flyboard jet packs, and water skiing are the main attraction. Lake Havasu City is a thriving tourist town with plenty of lodging, boat tours, waverunner rentals, wakesurfing, kneeboarding, wake skating, stand up paddle boards and shopping to support even the largest of Spring Break and peak season crowds. Our company offers premier high quality watercraft rentals and boating services for all group sizes for families, friends, and business retreats to this beautiful lake destination.
Lake Havasu itself is 45 miles long and is actually a Colorado River reservoir that was created when the Parker Dam was completed in 1938. It is a desert lake surrounded by cliff walls and offers plenty of room for water sports like wakesurfing, kneeboarding, and air chair lessons and guide lake tours. Lake Havasu City is also home to the famed London Bridge and under the bridge there is an English Village of shops and restaurants. Lake Havasu City is located on the Colorado River on the Western Border of Arizona, and is one of the most famous lakes for Houseboat vacations. Lake Havasu is about 60 miles south of Bullhead City, and Phoenix is only 200 mile away.
A little fun fact about Lake Havasu is the white sturgeon that were stocked in Lake Havasu in 1967 and 1968 from stock obtained from San Pablo Bay, California. While some dead sturgeon were found downstream from Havasu (probably killed during passage over dams), living fish have not been recorded, but may still exist along the southern end of Lake Havasu near Parker Dam. Sturgeons have been known to grow upwards of 20 feet, and can live in excess of 100 years and many in and around Lake Havasu continue in their efforts to catch a glimpse of the majestic animal. Some of the major marinas and resorts around the lake to enjoy our watercraft rental and charter services include; Site Six launch ramp, Sandpoint Marina, Lake Havasu Marina, Havasu Springs Resort and Marina, Havasu Landing Resort and marina, Cattail Cove State Park, Black Meadown Landing and marina, and Lake Havasu State Park next to Campbell cove RV Resort.