Information on Alaska boat rentals, jet skis, ATV, tour operators, fishing, RV and outdoor adventure companies offering their service in this beautiful state. Alaska is situated in the northwest extremity of the North American continent, with the international boundary with Canada to the east, the Arctic Ocean to the north, and the Pacific Ocean to the west and south, with Russia further west across the Bering Strait. Alaska is the largest state in the United States by area, the 4th least populous and the least densely populated of the 50 United States. Most of Alaska's residents live within the Anchorage metropolitan area and is considered to be one of the worlds largest hunting and adventure destination for the outdoors by many.
Alaska is the largest state in the United States in land area at 586,410 square miles, over twice the size of Texas, the next largest state. With this amount land outdoor recreational activities like; camping, boating, hiking, camping, exploring, and others many tourist are drawn to the area. Alaska is larger than all but 18 sovereign countries. Counting territorial waters, Alaska is larger than the combined area of the next three largest states: Texas, California, and Montana. Alaska has about 3,197 officially named natural lakes, out of over 3,000,000 unnamed natural lakes, approximately 67 named artificial reservoirs, and 167 named dams and these lakes are mostly known for fishing, camping, and sometimes water sports; but with colder temperatures and a short season getting in the water is not common in most lakes.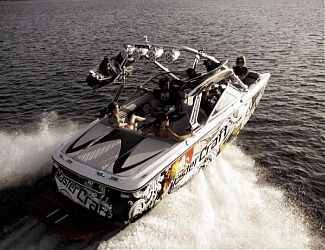 Alaska has a longer coastline than all the other U.S. states combined. It is the only non-contiguous U.S. state on continental North America; about 500 miles of Canada separates Alaska from Washington state. The state is bordered by the Yukon Territory and British Columbia in Canada, to the east, the Gulf of Alaska and the Pacific Ocean to the south, the Bering Sea, Bering Strait, and Chukchi Sea to the west and the Arctic Ocean to the north. Alaska's territorial waters touch Russia's territorial waters in the Bering Strait, as the Russian Big Diomede Island and Alaskan Little Diomede Island are only 3 miles apart. With the extension of the Aleutian Islands into the eastern hemisphere, it is technically both the westernmost and easternmost state in the United States, as well as also being the northernmost.
Invert Sports does not have a location in Alaska as of now; but does offer transportation services to an elite clientele in the state who want the best watercraft services available. We currently offer advertising on this web page to all other types of rental and tour companies who are located in the state. Check out the opportunities of a contract franchise.