LAKE OROVILLE (CALIFORNIA)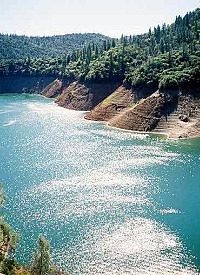 Lake Oroville is perfect for any kind of boating vacation with calm waters generally during the morning and evenings. Invert Sports offers Lake Oroville boat rentals and jet ski rental vacations including; wakeboard boat rentals, jet ski rentals, and waverunner rentals. Oroville Dam and Lake Oroville lie in the foothills on the western slope of the Sierra Nevada, one mile downstream of the junction of the Feather River's major tributaries. Lake Oroville offers great clear water during the summer months for houseboating, jet skis, Sea-Doo rental, and wakeboarding lessons behind your favorite competition boat rental. We offer houseboat rental holidays, jet ski rentals, and tours at Lake Oroville.
Lake Oroville is a large man-made reservoir created by Oroville Dam in central Northern California in the foothills of Sierra Nevada. It is located east (and upriver) of the city of Oroville, California in Butte County. The lake has a capacity of 3,537,580 acre feet. The lake supplies water that is transported to the San Francisco Bay Area and Southern portions of California. Invert Sports offers watercraft rentals at Lake Oroville, but the requirement of three or more days rental price is required.
The South of Oroville Lake is used by speed boat rentals, wakeboard lessons, wake surf lessons, and water ski lessons. The North Forbay is reserved for non-motorized use only, such as sailing and windsurfing. The lake is a popular for houseboat rental vacations, stand up paddleboarding, water trampolines, and bass fishing; hosting several fishing tournaments each year.