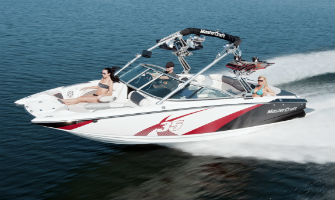 Enjoy the best quality Chicago boat rentals, jet ski rentals, boat tour and charter services at any lake in Illinois. We provide on the water rentals and captain services at your favorite lake. Enjoy all types of water sports including; water skiing, wake surfing, wakeboarding, tubing, kneeboarding, wake skating, air chair, flyboarding and more! There are many lakes and reservoirs within an hours drive to get on the water to enjoy swimming, fishing and water sport activities.

The City of Chicago, is the third-most populous city in the United States. With close to three million residents, it is the most populous city in the state of Illinois, the Midwestern United States, and the county seat of Cook County. The Chicago metropolitan area, often referred to as Chicagoland, has nearly ten million people and is the third-largest in the United States.
Chicago was incorporated as a city in 1837, near a portage between the Great Lakes and the Mississippi River watershed, and grew rapidly in the mid-nineteenth century. Positioned along Lake Michigan which is an amazing boating destination for tourist and locals, the city is an international hub for finance, Chicago boat rides, commerce, industry, technology, telecommunications, and transportation: O'Hare International Airport is the second-busiest airport in the world when measured by aircraft traffic; the region also has the largest number of U.S. highways and rail road freight. In 2012, Chicago was listed as an alpha global city by the Globalization and World Cities Research Network, and ranked seventh in the world in the 2014 Global Cities Index. Chicago has the third-largest gross metropolitan product in the United States. The city has one of the world's largest and most diversified economies with no single industry employing more than fourteen percent of the workforce.