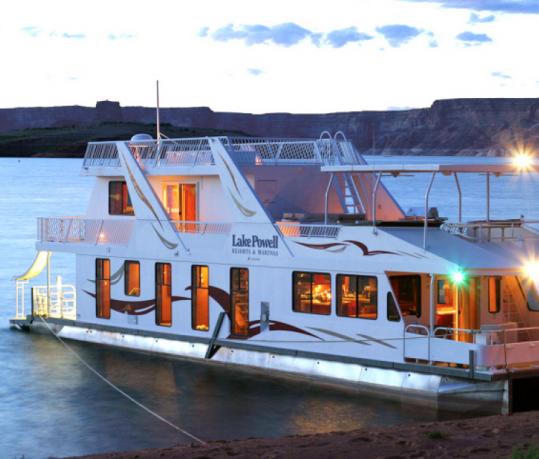 Visitor information on Lake Powell houseboat rentals and vacations at the Wahweap Marina, Antelope Point Marina and Bullfrog Marina. If you've ever wanted to enjoy a houseboat vacation on beautiful Lake Powell in Utah or Arizona before, now is the time to schedule your house boat rental with some of the best watercraft rental equipment from Invert Sports. We offer luxury MasterCraft wakeboard boats, Yamaha jet skis, water toys and guided boat charters at all marinas and resorts. This winding canyon lake has miles of coastline in some of the most beautiful red rock and sand beach landscapes in the country and is considered one of the best houseboat rental destinations in the world. If you imagine exploring the Grand Canyon (which is just downstream) or Zions National Park you'll get a good idea of what houseboating on Lake Powell is all about.
The Lake Powell houseboat rental experience is relaxing for families, business retreats, or friend party groups to enjoy water recreation at it's finest. There is so much to do including swimming, exploring the lake's many coves on a waverunner, read, play games, wakeboard, water ski, kneeboarding, wakesurf, wake skate, fish, fly board, camp or take a nap. Year round boating is nice to be out in a Lake Powell houseboat, but the lake is busiest June through August. The weather and water temperatures are the best in June or September. Glassy water is mostly available in deep canyons with minimal houseboats, in the morning and evening times. We can help will all your Lake Powell houseboat rental needs.
Official guide to Lake Powell houseboat rentals information website so you can plan a trip from Wahweap Resort, Bullfrog Marina, or the newest Antelope Point Marina. We have a power boat right for your group, from the inexpensive but loaded Centurion Falcon, to the luxury 18 passenger MasterCraft X-45 with all the upgrades. With eight boat models and three jet ski models to choose from we can meet your budget and price with the nicest selection of water-toys, ski boats, and personal watercraft for your houseboat trip. You can rent a Lake Powell houseboat for 3 days up to as many as you want. Lake Powell houseboat rentals range from 44 to 75 feet which can sleep from 8 to 14 people and our wakeboard boat rentals seat from 10 to 18 passengers depending on the model. Our powerful jet ski rentals can accommodate up to 3 people at a time. This is not a small space for a lot of people you have to remember that the roof is also a place for people to hang out, sleep, eat and hot tub on some houseboats.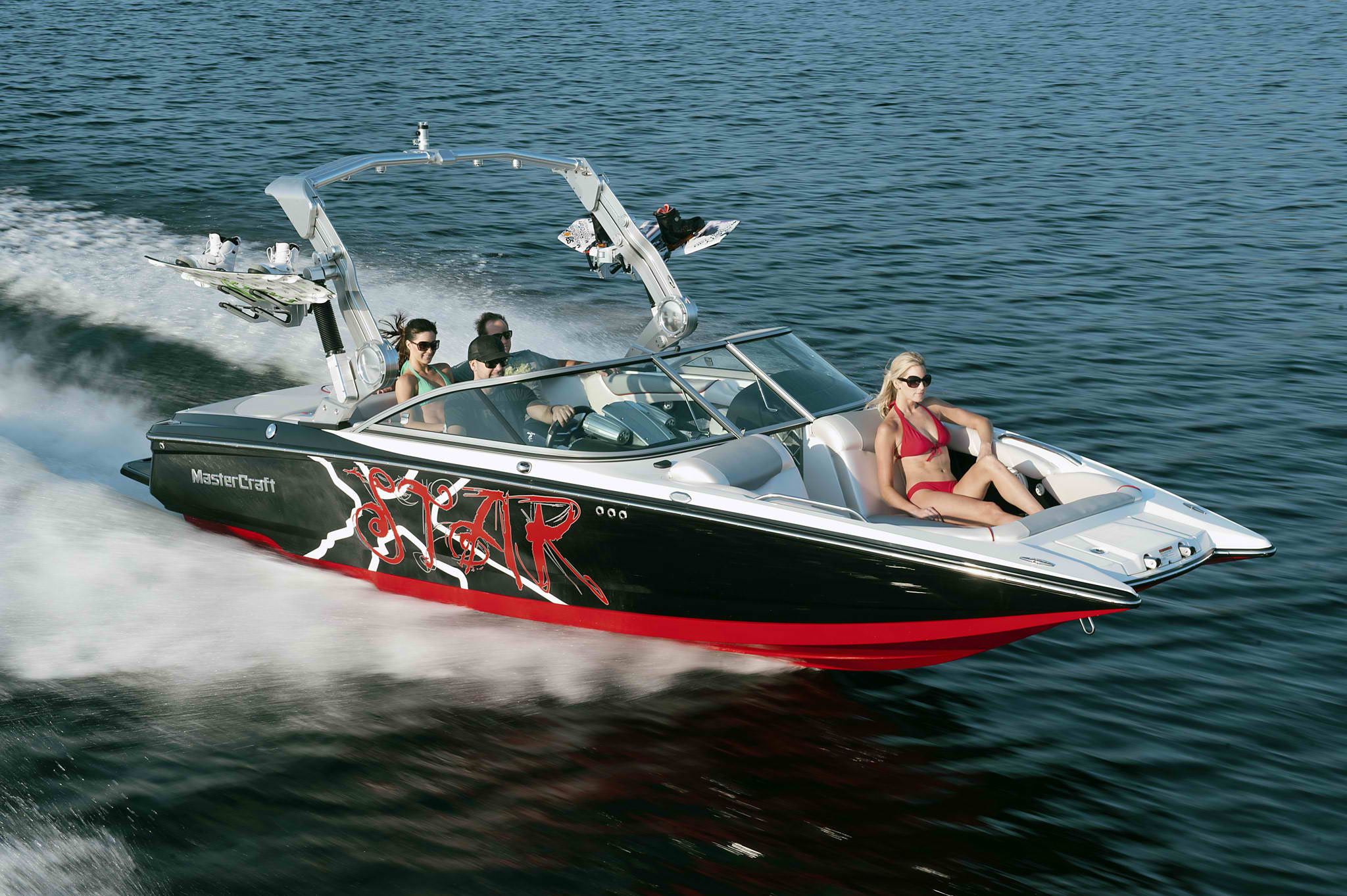 The houseboats at Lake Powell are generally equipped with a range, refrigerator, propane grill, kitchen utensils and dishes, a heater, and a bathroom with toilet and shower. The largest houseboats will have more amenities such as big-screen televisions, hot tubs, freezer, toy gas tank and much more. The newest marina on beautiful Lake Powell is located just 12 miles from Page, Arizona and is called Antelope Point Marina which offers both convenience and new upscale boating services catering to the elite on Lake Powell. Antelope Point Marina and Wahweap Marina are located in the Lake's main channel, just a few minutes boat ride or tour from the Glen Canyon Dam and nearby Lone Rock Beach and Campground. Antelope Point houseboats are the closest land based marina to world famous Rainbow Bridge National Monument and adjacent to popular Antelope and Navajo canyons.
Call today and experience a Lake Powell house boat rental vacations package complete with a wake boat, jet skis, and water sports equipment. Our full service water sports instruction for all boating activities on our premier boat tours are great for customers who don't want the hassle of boating and the responsibility of the equipment. Our tour guide service are available for as many days as you would like even your entire houseboat vacation. Water temperatures get from 70 - 82 degrees from May through October and many visitors, tourist, and locals love to spend there time hiking, exploring the canyons, and enjoying the stars on the many beaches throughout the lake at night. Air temperatures range from 70 - 110 degrees from May through October.
Our houseboat rentals services and watercraft experts are commitment to working with our customers to help make their Lake Powell vacation the best they've ever had. Huge Navajo sandstone cliffs, calm canyon waters, towering buttes, endless canyons, friendly boaters, beaches and hiking trails. House-boaters, fishermen, hikers, bikers, water sport enthusiast and visitors from all over the planet come to Lake Powell to get away on the ultimate lake vacation with the people they love