CLICK HERE TO SEE OUR PRICE LIST.
RESERVATION POLICY: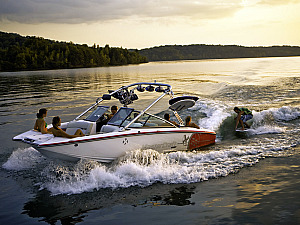 To reserve your boat rental, jet ski rental, or chartered boating services we do require that you call us, and one of our knowledgeable team members can help make your reservation. There is a $300.00 to $600.00 non-refundable reservation fee, per piece of equipment that will be applied toward your total boat rental, waverunner rental or any other watercraft service we offer. This reserves your equipment for the time you specify.
Cancellations must be done 60 days in advance of any rental or chartered service otherwise the full quoted price is due when canceling the service. You may purchase cancellation insurance up to 3 days after the time of reservation for 10% of your total rental rate. This will allow you to cancel or change the number of days of your rental up to 72 hours in advance of your rental start time. No cancellations or date changes are allowed within 72 hours of you start time otherwise the full remaining rental rate is due. You may change the start date of your watercraft service within the same boating season if available for a rescheduling fee of $200.00 per watercraft. You may change or upgrade your rental equipment from that which was originally scheduled if available, however the original quoted rate must be the same or more than what equipment you are changing to; otherwise the original amount must be honored even if the equipment you are changing too cost less.
E-MAIL NOW! (24/7)
PHONE: 888.205.7119
INVERT SPORTS ACCEPTS CASH, CHECK IN ADVANCE AND ALL MAJOR CREDIT AND DEBIT CARDS.