LAKE BERRYESSA (CALIFORNIA)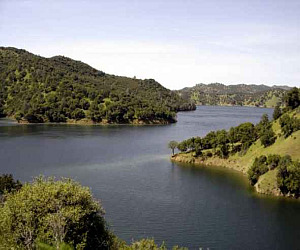 Lake Berryessa boat rentals and jet ski rental vacations offers the perfect setting for the ultimate houseboat vacation. Nestled between the Blue Ridge and Cedar Roughs, just 45 minutes from Napa Valley, Lake Berryessa is an ideal location for your houseboat getaway. Mild temperatures in the summer make Lake Berryessa perfect for water sports, fishing, standup paddle boarding, camping, wildlife viewing, wakeboarding lessons, wake surf instruction, flyboard, waverunner rentals, or just simply sitting back and releasing the cares of the everyday. The grassy hills surrounding Lake Berryessa are dotted with oak and Manzanita and provide excellent opportunities for spotting eagles, hawks, deer, and even wild turkey. Let Invert Sports outfit your boating vacation with all the water toys at Lake Berryessa.
Lake Berryessa is the largest lake in Napa County, California. Lake Berryessa reservoir is formed by the Monticello Dam, which provides water recreation and houseboat rentals for visitors coming to California. The lake was named for the first European settlers in the Berryessa Valley, José Jesús and Sexto "Sisto" Berrelleza.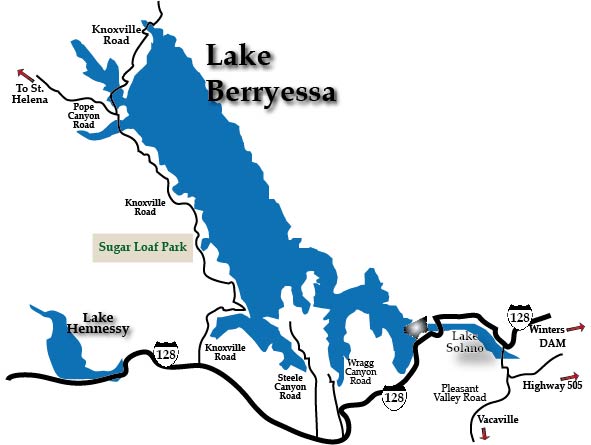 Lake Berryessa is heavily used for water recreational purposes including lake tours and charter boating services, and encompasses over 20,000 acres when full. Lake Berryessa is approximately 15.5 miles long, but only 3 miles wide. It has approximately 165 miles of shoreline with grassy and beach areas; perfect for camping. Invert Sports provides all watercraft rentals, water trampolines, and all other water toys at Lake Berryessa. Enjoy the fun of water recreation at these marinas, launch ramps, and resorts around Lake Berryessa that we service; Pleasure Cove, Markley Cove Resort, Foothill Pines, Lupine Shores, Blue Oaks, Capell Cove Marina.